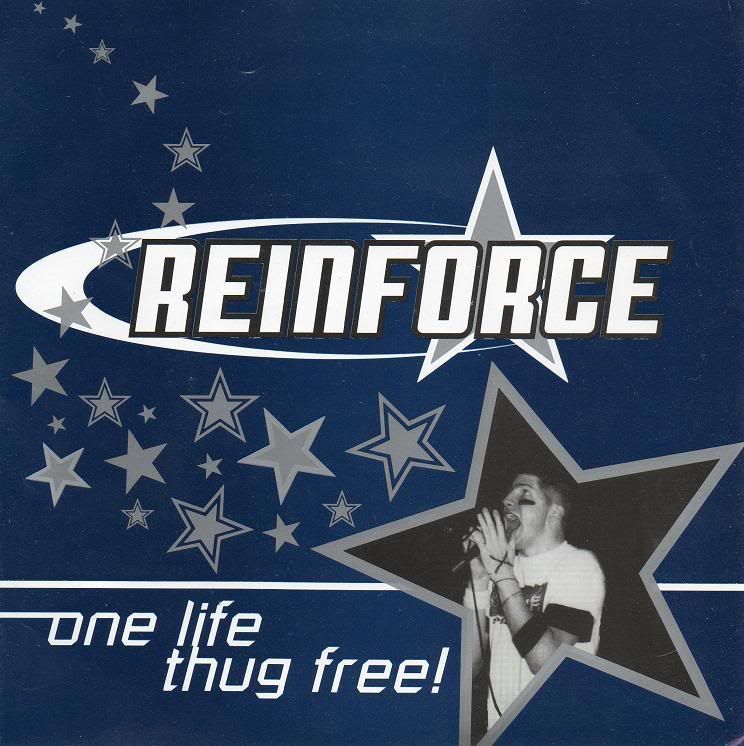 So far there's been a lot more here of 90's screamo or heavier styled stuff, but during the 90's my biggest thing was- GASP! youth crew. Not that i'm ashamed of that in the least, I'm not. I don't care what people said, the "revival" bands had some great stuff.
I digress.
I first heard Reinforce on a local college radio station, the song "Butterfly". I was tape trading with a few people at the time and I traded with someone from the east coast. I got a tape with the Atari demo, Time Flies demo, In My Eyes demo, The Impact demo, UntilXToday demo, Bladecrasher demo, & the Reinforce demo. Far from mind blowing, miles from new, but it was fucking great. I was really into the revival/youth crew sound and no (then current) band got me running in circles, pointing fingers, and being (realistically) positive than Reinforce during those few summers in the 90's. When this band split as did another N.C. band, Until X Today (post coming soon), the First Step was born from their ashes.
Other than some comp. tracks, all I know that Reinforce did was both of these 7inches, their demo, & an lp called "Happy Kids Don't Paint their Rooms Black". The two 7inches you get here are:
Youth Shall Sing
1.) Butterfly
2.) Won't Accept It
3.) I'll Do My Best
4.) You Said
5.) Countdown
6.) There Speaks A True Friend
7.) Try & Try
One Life Thug Free
1.) One Life Thug Free
2.) It's Alright to Show Emotion
3.) A World Away
4.) Yeah, We Got It!
5.) Excuses, Excuses/There's A Warm Place in Hell For Me & My Friends
6.)This is Not the End
Both 7inches & cover scans included in download:
Reinforce - Two 7inches (download)
----------------
Now playing:
Alice in Chains - Them Bones
via
FoxyTunes